Magnet Coil with Fans. DMU, ErMag series


Semiautomated DMU 65/65


Safety Stop Switch on DMU Frame, ErMag series

Demagnetization Systems of ErMag Series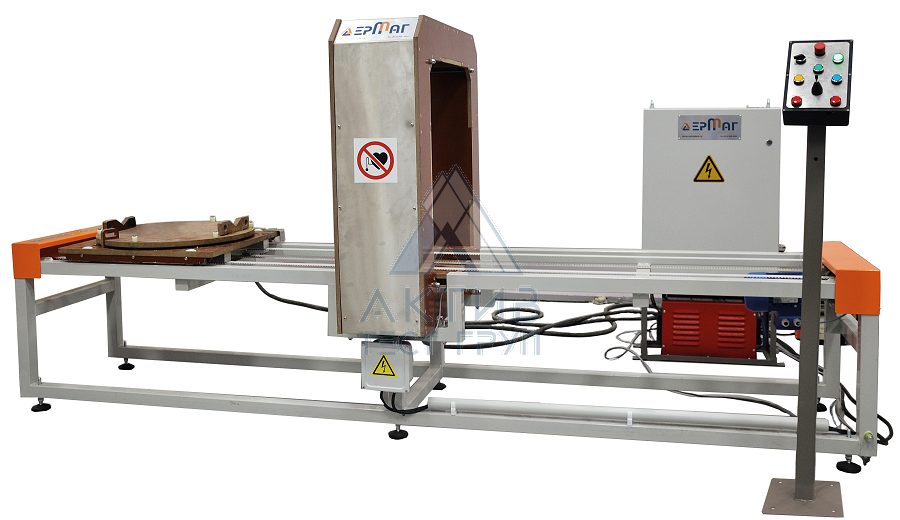 Semi-automatic demagnetizing system DMS 65/65 of the ErMag series manufactured by ActiveTestGroup (Russia) is designed for demagnetizing of ferromagnetic parts during production, repair and operation. The system also allows to magnetize the parts, and further to perform magnetic particle inspection of parts in residual field. Maximum weight of inspected items (parts) – 100 kg; the maximum dimensions of inspected items (parts) in cross-section – 650 х 650 mm.
Outstanding features:
Carriage platform rotation around the vertical axis;
Varying demagnetizing field direction;
Changing the direction of the demagnetizing field in relation to the part inspected and best demagnetization performance.
System composition:
System base with functional elements:
- solenoid (coil) for inspected parts demagnetization;
- turntable on a transport carriage;
- belt drive for turntable moving;
System control panel;
Power cabinet with electrical elements and transformer.
Solenoid (coil) - built-up frame made of textolite with wound conductor, protected with stainless steel housing from external influences.
The ActiveTestGroup company offers various dimensions of this equipment. Final dimensions of the DMS system, power cabinet and control panel location – at request of the Customer, depending on equipment placement requirements.